COVID POLICIES
Our Philosophy Moving Into 2022
OUR PHILOSOPHY MOVING INTO 2022
Since the pandemic started in March 2020, our clinic has been open without interruption and we have completed over 10,000 patient visits. To our knowledge, there has not been a single case of SARS-CoV2 transmission in our clinic. Maintaining this level of safety has required a huge amount of energy and effort and the last thing we want to do is let our guard down prematurely and risk breaking the streak that we have worked so hard to maintain.
On the other hand, we feel strongly that "health" is a multi-faceted concept that encompasses physical, social, emotional, and mental factors, not just the avoidance of SARS-CoV2. Part of the reason that we have worked so hard to remain open without interruption during the pandemic is because we feel very strongly that now, more than ever, it is very important for people to have consistent access to treatment that supports all aspects of their wellbeing.
As COVID-19 becomes an endemic illness and the predominant strain mutates to become more contagious yet less severe, we have to chart a path forward that does not entail closing down society in order to accommodate lengthy quarantine periods each time a person comes into contact with COVID-19. The policies below are designed to strike a balance between reducing risk of exposure while at the same time avoiding disruption to our patients' treatment protocols.
Although we are being proactive (please see OTHER STEPS WE ARE TAKING TO KEEP YOU SAFE below) no set of policies would make it possible to mitigate all risk of viral exposure. For this reason, we encourage every individual to make a decision about whether they come to the clinic based on their personal risk factors and those of others in their household.
MASK POLICY
Effective March 1, 2022, we are no longer requiring patients to wear masks. I, however, am wearing a mask. This is because our clinic serves a large number of individuals who are at high risk for severe COVID illness, including numerous immunocompromised patients who are not able to receive vaccination and/or for whom covid would be very dangerous. Out of regard for these patients, I will continue to wear a mask.
BUT VIRUS PARTICLES PASS THROUGH MASKS!
Yes, viral particles are extremely small and are not filtered by most masks. Evidence suggests, however, that the SARS-Cov-2 virus is carried on moisture droplets that are emitted when you breathe and talk. These droplets may remain suspended in the air and may travel distances in excess of six feet. Think of the way that your breath is visible when the temperature is below freezing — each time you exhale or speak you are emitting a cloud of tiny droplets into the environment. According to a growing body of evidence, this cloud of droplets may contain viral particles that remain suspended in the air for extended periods of time and can travel long distances. These droplets are much larger than the virus itself and are blocked by masks.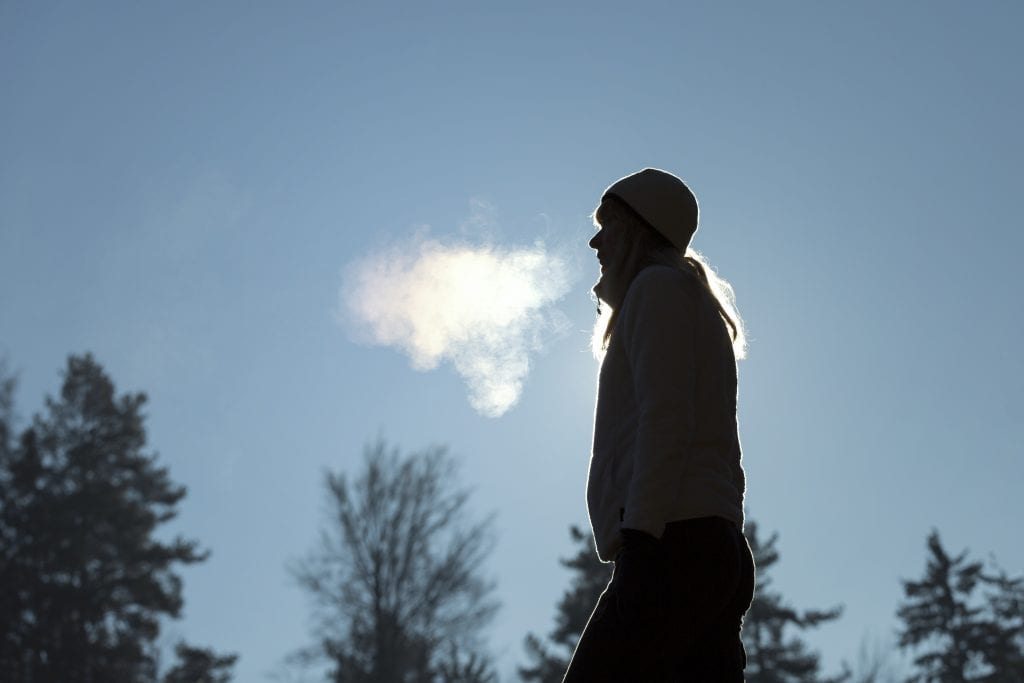 BUT WHAT ABOUT "FAITH NOT FEAR"?
Since the beginning of the pandemic, I have advocated for and endeavored to model an attitude of faith over fear. As a practitioner of natural medicine, I know that a healthy immune system provides robust protection against infectious disease. As a Christian, I pray Psalm 91 over my family, my patients, and business on a daily basis and have gone so far as to have Psalm 91 prayer cards printed to distribute to my patients. As a lifelong conservative, I sympathize with those who believe that the pandemic has been exploited for political purposes and I worry that COVID-19 has caused us to tolerate a degree of government control of our personal and medical decisions that we may end up coming to regret.
On the other hand, as a follower of Jesus, I believe that we are called to set aside our own preferences and comfort to act out of sacrificial, selfless care for others, especially the weak and vulnerable. In the context of the pandemic, the weak and vulnerable are those at high risk for severe COVID-19 illness. In many cases, these vulnerable individuals are suffering a terrible emotional, mental, and physical toll as a result of a year of strict isolation. They are in urgent need of exactly the type of help that I am capable of providing. The only way I am able to provide that help, however, is by wearing a mask so vulnerable people feel safe spending time in my clinic.
IF YOU TEST POSITIVE FOR COVID-19
Please isolate at home for five days after a positive COVID-19 test. If you have an appointment scheduled during your five day isolation period, please let us know as soon as possible so that we can reschedule your appointment.
If, after five days, your symptoms have resolved (or you never had symptoms in the first place), you may leave isolation to come to the clinic for appointments.
If, after five days, you still have symptoms, continue to isolate at home for an additional five days. If you have an appointment scheduled during your additional isolation period, please let us know as soon as possible so that we can reschedule your appointment.
IF YOU ARE EXPOSED TO COVID-19
Rather than attempt to establish an exposure policy that takes into consideration complicated factors like proximity, mask use, natural immunity, vaccination/booster status, etc., we are trusting our patients to take a common sense and love-thy-neighbor approach to determining whether or not to cancel their appointments due to exposure.
If your contact was brief and/or not close, if you and/or the infected individual were wearing a mask, if you are recently vaccinated or "boosted", if you are recently recovered from COVID-19 yourself and therefore have natural immunity, and/or there are other factors that cause you to believe that your risk of being infected with COVID-19 is low, you can keep your appointment.
If there are factors, whatever they may be, that cause you to feel more comfortable quarantining after exposure, please let us know and we will reschedule your appointment.
OTHER STEPS WE ARE TAKING TO KEEP YOU SAFE
We are taking a number of other steps to insure your safety when you visit our clinic. The following is a summary of the special measures that have been in place in our clinic since March 2020:
Every room in the clinic is equipped with a high-power air sanitizer which combines HEPA filtration with UV-C sanitization and bipolar ionization. These filters run around the clock.
Our HVAC system is equipped with a REME-HALO system, which reduces surface viruses, bacteria, odors, mold, and VOCs.
Our HVAC system has been modified to increase outdoor air ventilation as recommended by experts.
We are maintaining the humidity in the clinic at the 40-60% level recommended by experts.
All linens are changed after each patient and are sanitized by a hospital laundry service.
All high-touch surfaces are sanitized multiple times per day with a CDC-approved cleaning product.
Employees wash and/or sanitize hands before and after each patient encounter.