PLEASE NOTE: If you are experiencing symptoms of illness (fever or chills, cough, shortness of breath or difficulty breathing, fatigue, muscle or body aches, headache, new loss of taste or smell, sore throat, congestion or runny nose, nausea or vomiting, or diarrhea) we will need to reschedule your appointment. We are not enforcing our usual late cancellation policy for cancellations related to COVID or COVID-like illness. For more information about our current isolation and quarantine policy, please click here.
We understand that there is controversy surrounding face covering policies and that masks are annoying and uncomfortable. Believe me — as a person who has been working in a mask ten hours a day for approaching two years, I am very eager to return to mask-free life!
On the other hand, our clinic serves a large number of individuals who are at high risk for severe COVID illness, including numerous immunocompromised patients who are not able to receive the vaccination. Out of regard for these patients, my employees and I will continue to wear a mask and we will require everyone who enters the clinic to do the same.
BUT VIRUS PARTICLES PASS THROUGH MASKS!
Yes, viral particles are extremely small and are not filtered by most masks. Evidence suggests, however, that the SARS-Cov-2 virus is carried on moisture droplets that are emitted when you breathe and talk. These droplets may remain suspended in the air and may travel distances in excess of six feet. Think of the way that your breath is visible when the temperature is below freezing — each time you exhale or speak you are emitting a cloud of tiny droplets into the environment. According to a growing body of evidence, this cloud of droplets may contain viral particles that remain suspended in the air for extended periods of time and can travel long distances. These droplets are much larger than the virus itself and are blocked by masks.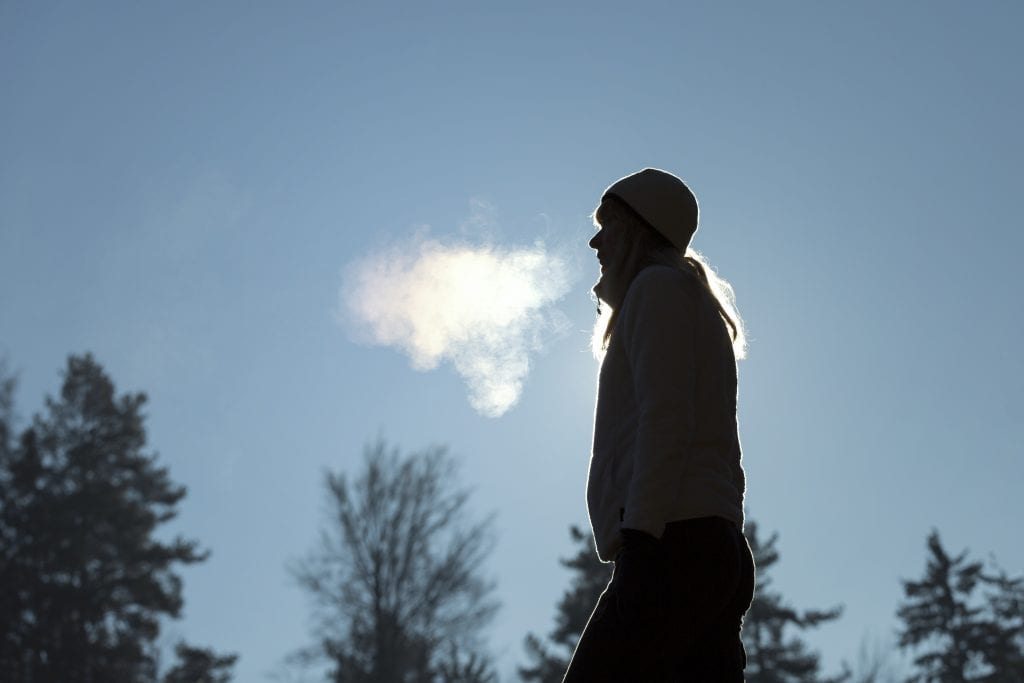 Because patients and their attendants are spending an extended period of time in enclosed spaces in our clinic (and are breathing and talking while they are in those enclosed spaces), we are working diligently to do everything we can to minimize shedding of potentially infectious respiratory droplets. Face coverings are a very important means of accomplishing this goal.
BUT WHAT ABOUT "FAITH NOT FEAR"?
Since the beginning of the pandemic, I have advocated for and endeavored to model an attitude of faith over fear. As a practitioner of natural medicine, I know that a healthy immune system provides robust protection against infectious disease. As a Christian, I pray Psalm 91 over my family, my patients, and business on a daily basis and have gone so far as to have Psalm 91 prayer cards printed to distribute to my patients. As a lifelong conservative, I sympathize with those who believe that the pandemic has been exploited for political purposes and I worry that COVID-19 has caused us to tolerate a degree of government control of our personal and medical decisions that we may end up coming to regret.
On the other hand, as a follower of Jesus, I believe that we are called to set aside our own preferences and comfort to act out of sacrificial, selfless care for others, especially the weak and vulnerable. In the context of the pandemic, the weak and vulnerable are those at high risk for severe COVID-19 illness. In many cases, these vulnerable individuals are suffering a terrible emotional, mental, and physical toll as a result of a year of strict isolation. They are in urgent need of exactly the type of help that I am capable of providing. The only way I am able to provide that help, however, is by maintaining protocols that cause them to feel safe spending time in my clinic.
OTHER STEPS WE ARE TAKING TO KEEP YOU SAFE
We are taking a number of other steps to insure your safety when you visit our clinic. The following is a summary of the special measures that have been in place in our clinic since mid-February 2020:
Every room in the clinic is equipped with a high-power air sanitizer which combines HEPA filtration with UV-C sanitization and bipolar ionization. These filters run around the clock.
Our HVAC system is equipped with a REME-HALO system, which reduces surface bacteria, viruses, odors, mold, and VOCs.
Our HVAC system has been modified to increase outdoor air ventilation as recommended by experts.
We are maintaining the humidity in the clinic at the 40-60% level recommended by experts.
Patients are moved into treatment rooms immediately upon arrival.
Patients are strongly discouraged from bringing family members or other attendants to their appointments.
All linens are changed after each patient and are sanitized by a hospital laundry service.
All patients are screened for symptoms and virus exposure upon arrival. Patients who do not meet our requirements are not permitted to come to the clinic.
All high-touch surfaces are sanitized multiple times per day with a CDC-approved cleaning product.
Employees wash and/or sanitize hands before and after each patient encounter.
Although we are being as proactive as possible, it is not possible to mitigate all risk of viral exposure. For this reason, we encourage every individual to make a decision about whether they come to the clinic based on their personal risk factors and those of others in their household. At this time we are not enforcing our usual late cancellation policy in the event that you determine, for whatever reason, to cancel or reschedule an appointment for reasons related to the pandemic.
INFORMATION RESOURCES RELATED TO MASKS
MASK MATERIAL
Although many mask policies deem scarves, bandanas, and handkerchiefs acceptable, many fabrics do not offer optimal protection (some sources suggest that 100% cotton bandanas filter only approximately 2% of micro particles, whereas surgical masks filter approximately 85%). For this reason, we recommend that you wear a disposable medical mask as opposed to a cloth mask. For individuals who do not have access to surgical masks, materials such as paper towels may be more effective than many fabrics at filtering the SARS-Cov-2 virus.
MASK FIT
Having observed numerous individuals wearing homemade masks over the past several months, we also have concerns about whether ill-fitting homemade masks may, in fact, be giving people a false sense of security.
The outer surface of your face covering is a contaminated surface. Each time you adjust your face covering in order to prevent it from falling down below your nose or riding up to cover your eyes, your hands are contaminated and need to be sanitized. Adequate hand hygiene becomes impractical/impossible if mask adjustments have to be made dozens of times an hour, as is often the case with homemade masks. Adjusting a mask also often requires touching the face, specifically around the eyes and nose, which represents a significant risk for viral infection.
We have also observed that ill-fitted face coverings often end up interfering with vision and balance, which could be a particular concern for individuals at risk for falls.
Given this, we encourage you to select a face covering that fits well enough that it will not require frequent adjustments and does not interfere with your ability to see (both ahead of you and the ground at your feet).
This video is five months old, which is an eternity in the context of the pandemic, but there is still valuable information here about the benefits of masks. Also note that there is a lot that Dr. Damania ("ZDogg") has said on other topics with which I disagree.